---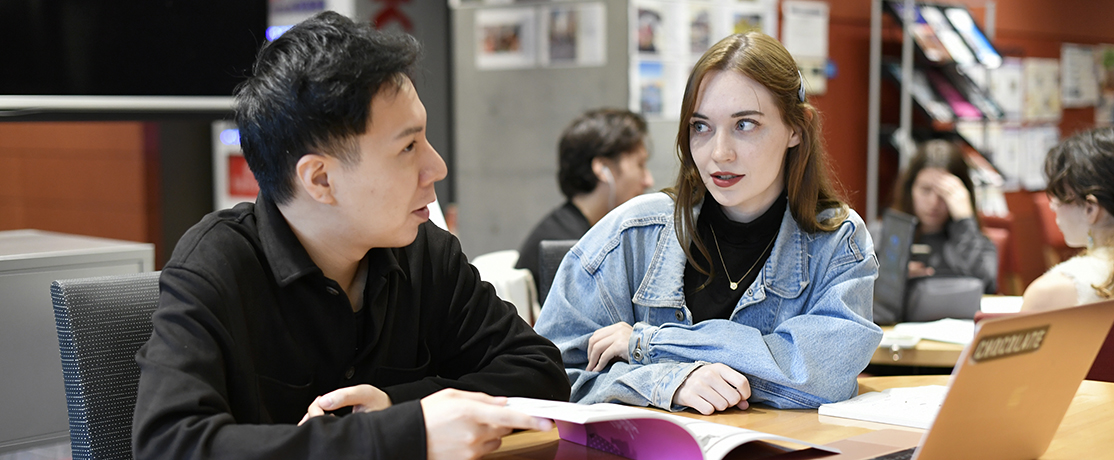 Graduate School of Intercultural Communication
Graduate Program in Intercultural Communication
The Graduate School of Intercultural Communication is dedicated to supporting the research interests of those seeking a Master's degree or a Doctorate degree in any of the four areas of the curriculum.

Yet problems that face the world cannot be overcome with only one specific focus, and so students are encouraged to incorporate an interdisciplinary approach to their studies in order to give rise to new ideas, alternative approaches, and unique perspectives. Guidance from the faculty aims to develop this interdisciplinary way of thinking to help bridge theoretical ideas with the practical implications of outcomes.
Research and Analysis in Terms of Communication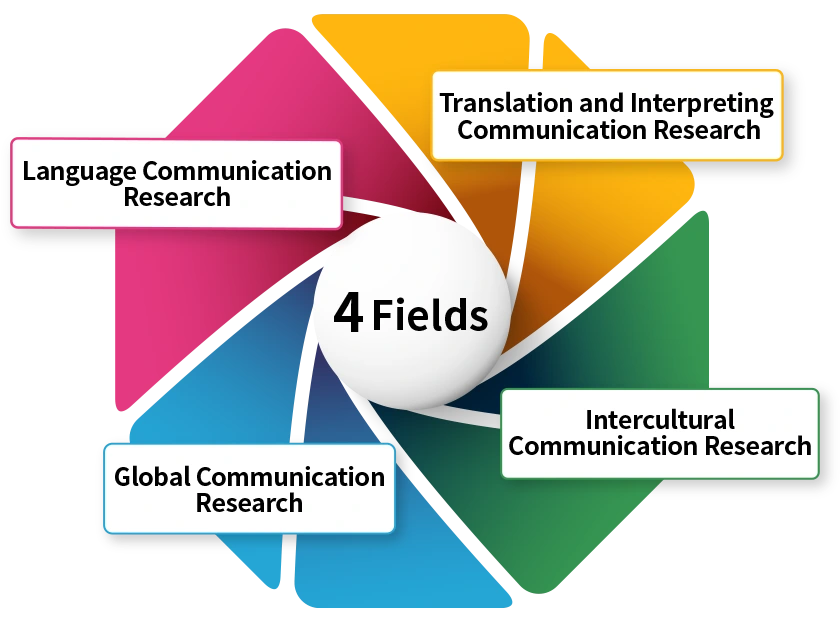 To face the many real problems that exist in our increasingly complicated world, and to contribute to realizing true coexistence and sustainability, we must learn how to analyze and think across disciplines and translate those abstract concepts into action. Our graduate school aims to cultivate researchers who make decisions and act independently based on interdisciplinary knowledge of intercultural communication.
In this global community in which many cultures and languages coexist, communication between people with different cultural backgrounds is the key to humankind's pursuit of peace and the achievement of multicultural coexistence. This is our perspective at the Rikkyo University Graduate School of Intercultural Communication, where we are ever mindful of the heterogeneity of the many cultures of the world, and include the natural environment as a party in the consideration of how to coexist with one another. Our graduate school provides many different approaches for students to research intercultural communication, which represents a new system of knowledge that provides a framework for considering how to build and sustain a multiethnic, multicultural and multilingual coexistence.
We offer four fields of study: Language Communication, Translation and Interpreting Communication, Intercultural Communication, and Global Communication. And we have developed programs such as the "
Translator/Interpreter Training Program
" and the "TESOL Program" (which is conducted in English) to develop both expertise and practical skills.
We will build a new, sustainable future-oriented study of intercultural communication by having students combine various approaches in their research in these four fields of study.
As globalization continues to progress, the achievement of multicultural coexistence is a critical issue both in Japan and the rest of the world. In this graduate school, students are sure to learn the theoretical and practical knowledge they need to make a difference in the world.
Graduate Program in
Enrollment Limit
Degree Specialization Field

Intercultural Communication

Master's Program

20
students

Intercultural Communication Studies

Doctoral Program

5
students
Chika Maruyama, Ph.D.
Dean, Graduate School of Intercultural Communication
As globalization continues to progress, the need for multiple cultures and languages to coexist in future societies will increase. Each and every member of communities in those societies will need to work proactively toward peace for humankind and sustainable communities—and a sustainable world.

The Graduate School of Intercultural Communication aims to cultivate people who can help create a sustainable world through communication with people whose cultural backgrounds differ from their own. Intercultural communication as a means toward a sustainable future has only continued to grow more complex in recent years. Situations requiring multiple kinds of communication present themselves everywhere―in corporations, public institutions, educational institutions, media, society in general and local communities both inside and outside Japan. We emphasize the abilities to develop practical knowledge into theory and to reconstruct theory into knowledge that is practical. Our goal is to cultivate advanced professionals―people who use their interdisciplinary knowledge of intercultural communication to make decisions and act independently to contribute in a variety of real-world situations. In sum, our graduate school is a place where students can acquire the skills they need to make meaningful contributions to society in the future.

We also offer a TESOL Program to develop better English language educators for the future: educators who can effectively teach English to Japanese people based on their understanding of how things work in Japanese classrooms as well as characteristic features of Japanese people and Japanese culture.

In addition, we offer a program for developing translation and interpreting professionals who can serve the needs of companies, groups, communities, hospitals, courts and others.

We sincerely expect that students who study in our Graduate School of Intercultural Communication will go on to contribute to the realization of multicultural coexistence and sustainable societies in a variety of social situations.
---